Happy Birthday Al Gallegos!
Our beloved inventor of Z-CoiL footwear turns 80 years old this month! Al is such a great person who is full of zest and energy that we thought it would be great to send him a birthday card with well wishes from his customers who's lives he has touched.

We have in our store a HUGE birthday card and we invite all of you to come in and sign the card, writing Al a message about how his wonderful invention has changed your life. Don't worry, it is plenty big to accommodate all of you! We sincerely hope you can take a few moments to pay us a visit and send well wishes Al's way. He will be absolutely thrilled! We have a little thank you treat for those of you that can spare the time to come in. The last day to sign the card will be Friday, 3/11, in order to get it to him in time for his birthday.

If you can't make it in, there is a link below where you can send him an email with your wishes.

Thanks for your support and we look forward to seeing you in the store!
---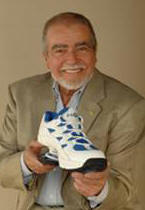 Z-CoiL Inventor Al Gallegos Turns 80!
Celebrating a Wonderful Life
Just like the springy shoes he invented, Al is one-of-a-kind, full of positive energy, warmth and support. In spite of a hard road, he has always bounced back and always helps to change people's lives for the better. Alvaro Z. Gallegos turns 80 years old on March 14th, and we hope you'll join us in wishing him the happiest of birthdays!

Send Al a Happy Birthday Wish

1931. Born in Del Norte, Colorado, Al works on the family farm until going to Regis College in Denver.
1951. He joins the USAF and becomes a test and fighter pilot.
1958. Al begins his entrepreneurial career by opening a department store in northern New Mexico, followed in time by other retail stores, a restaurant, and a real estate business.
1960. He marries Marcella Lopez and they proceed to have 8 children.
1980. Marcella passes away suddenly, leaving Al to cope as a single father. He takes up long-distance running to stay healthy for his kids.
An early Z-CoiL prototype.
1985. Al dreams of a springy, yet supportive shoe that might ease the aches and pains he suffers as a runner. Years of experimentation follow.
1996. Supplied with a small inventory of his patented, shock-absorbing Z-CoiL shoes, Al opens the first Z-CoiL store in Albuquerque.
2000. Al experiences another major blow when his youngest son, Tomas, is killed in a bicycle accident. The Z-CoiL Footwear company, on the other hand, is thriving. Its distributor network expands rapidly across the country, comprising mostly Z-CoiL customers who have become true believers.
Today, Al is still actively involved in the Z-CoiL business as a footwear designer and Chairman of the Board, and he continues to seek out simple, common-sense solutions to everyday health problems like arthritis and joint pain. And yes, Al still runs nearly every day!
Read a full History of the Z-CoiL Footwear Company.